Reviewing clothing....this is definitely a first!
DISCLAIMER: I am not a fashion blogger and do not possess the necessary materials to take decent fashion pictures. Please excuse the full body shots! :P
I tend to spend my money on makeup and as a result I shop at thrift stores or the clearance section of H&M or Loft. It is very rare that I will spend my money on expensive clothing, but this time I made an exception.
A Girl Named Katie is a handmade clothing and accessory store owned and operated by a very talented woman whom I went to high school with. If you missed my coffee post she also owns Fellowship Coffee Co.
Her bags are absolutely adorable and I'd love to own her Orchid Suede Town Bag but unfortunately I don't use purses enough to justify the purchase, so instead I went for the purple Kimono Style Studio Jacket.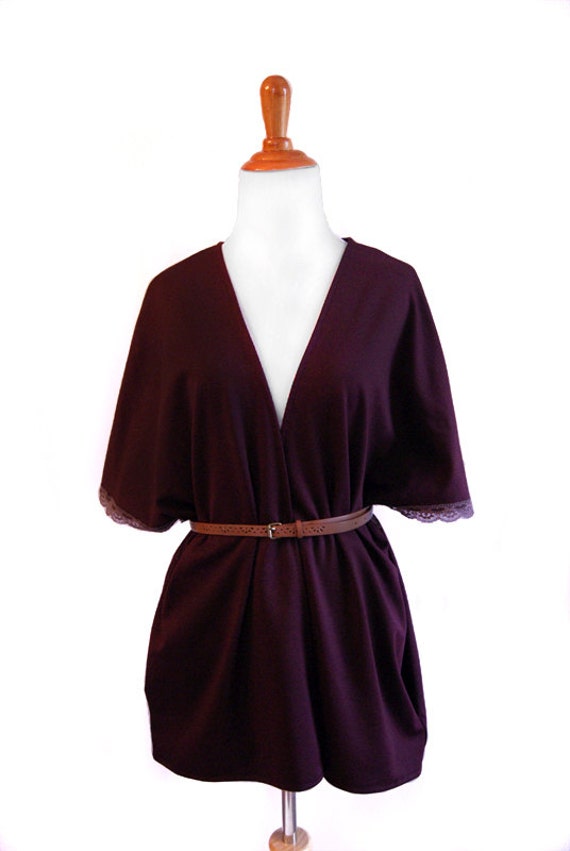 I'm taking this image off of her Etsy site because her pictures are way better than mine could ever hope to be. This jacket comes in four colors, Black, Eggplant, Blue, and Pumpkin. As well as 2 sizes, S/M and L/XL. I bought the S/M jacket in Eggplant!
And here is my embarrassing attempt at photographing it.
It is a very beautiful reddish purple with a cute light purple lace trim on the sleeves. The sleeves are wide and the jacket has a nice length to it. If I was shorter I could probably wear this with a pair of leggings. The fabric is really interesting and wasn't what I was expecting at all but I love it! It feels very heavy and sturdy to the touch but when on feels light and very comfy. It is unlike anything I've experienced before. On her site Katie says its made from a ponte knit. The neatest thing about this fabric is that it doesn't wrinkle. My biggest issue with going back and forth from my parent's house to my apartment is that my clothes end up wrinkly, but this was stuffed in a bag all weekend and when I pulled it out, it looked perfect!
But the absolute best thing about this jacket is....IT HAS POCKETS!! I adore pockets. :D
Here is a close up of the detail. I love lace so this little addition made me very happy.
And here is a close up of a pocket. They are sewn into the side and very roomy. I can easily fit my apartment keys in one pocket and my phone in the other with room to spare.
And now for my attempt at modeling.
Here is one way the jacket can be worn. If you want to rush out to the store or are feeling a bit chilly you can quickly throw it on over a tank top or t shirt and instantly become fabulous.
Also sorry for the state of my mirror. It is incredibly cheap. I wiped it down twice with Windex and I still couldn't get the smudge off of it..so I gave up. :(
My personal favorite way to wear it is belted with a nice pair of skinny jeans. I bought this with the intention of wearing it casually but I actually like it way more as a fancy top.
Anyway...as far as fit I am 5'5" with a bust/waist/hip ratio of 35/25/36 and this fits a tiny bit big on me, especially in the shoulders. I catch the one side trying to slip down every now and then, but its really not a big deal at all. Therefore if you are a bit smaller or bigger than me the S/M should fit you perfectly fine. Also if you are going to belt this I would not recommend wearing this dancing as your arm movement is restricted somewhat just because of the nature of the sleeves. I can see wearing this often to fancy dinners or nights out on the town.
This is a close up of the tags pinned to the jacket and sewn inside.
As you can see this top is machine washable which I would not doubt at all because of how sturdy it feels.
If you love handmade clothing and accessories and supporting small businesses I highly recommend checking out A Girl Named Katie.